Continue? is a weekly comedy web show where Paul Ritchey, Nick Murphy, and Josh Henderson play a random old school video game for 30 minutes. New episodes are uploaded on Wednesdays, and are hosted on YouTube.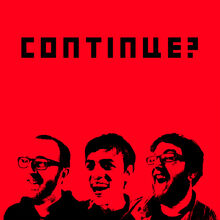 Continue? is different from most shows about video games in that the focus is not strictly on reviewing games but rather on taking three average guys, having them play a game for 30 minutes and learning if they would continue playing the game or not. The idea is to provoke humorous discussion of the game rather than provide a serious critique. The hosts have no prior experience of the vast majority of games that are played on the show, which is a deliberate decision in order to provoke genuine, fresh reactions on screen.
Games from the 8 and 16 bit era are the most commonly played, although N64 and Playstation games have been showcased on the show before and, more recently, games from the PS2 and GameCube era have been featured. The majority of the games played on the show are donated by fans. The hosts final verdict of 'Continue' or 'Game Over' does not necessarily mean that they think the game is good or bad, but is based on whether the first 30 minutes or so of the game that they have experienced caught their attention enough to keep playing or not.
Based in Philadelphia, the show began on December 14th, 2009, originally hosted by Paul Ritchey, Nick Murphy, and Dominic Moschitti.
When Dom moved to California and could no longer appear on the show on a regular basis he was replaced by Josh Henderson, as of May 18th, 2011.
Continue? was originally a part of the Gamervision channel on YouTube, but the show moved to it's own channel after Gamervision's website closed down. In 2011 Continue? became part of Normal Boots, a network of like-minded video game content creators.
Episodes
Edit
Main article: Episodes
True Facts
Edit
The Continue? theme "Ashtar" is by a band called Chromelodeon and can be found here.
The 'Continue?' screens featured in the show's title sequence are from Zelda II: The Adventure of Link, Final Fight, Street Fighter II and Ninja Gaiden Arcade (released in Europe as Shadow Warriors).
The Continue? logo was inspired by the sketch show Stella.
Continue? was nominated for a Philadelphia Geek Award in 2017 in the 'Multimedia Project of the Year' category.[1]
External Links
Edit
References List
Edit