Every week on ContinueQuest,
Paul
,
Nick
,
Josh
and occasionally
Dom
, venture into longer games and we learn a little bit about our adventurers. Quest on!
The show began in July 2015, It is a more traditional let's play style show where the guys play a longer game that wouldn't normally be featured on Continue?.
Sometimes the guys will play a game for only a few episodes without the intention of completing it. These series are called 'Continue SideQuest'.
In 2018 Continue? created a second channel, 'Continued!', following this usually only the first episode of a new ContinueQuest is posted on the main channel and all subsequent episodes are posted on the second channel.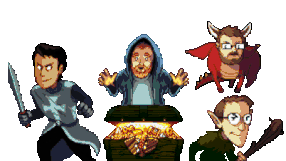 Games Played on ContinueQuest
Edit
Secret of Mana
Super Mario RPG
Undertale (COMPLETED)
Dragon Warrior (COMPLETED)
Asagao Academy (COMPLETED)
Chrono Trigger (COMPLETED)
Valkyria Chronicles
Snipperclips
Chroma Squad
Lego Star Wars
For the King
Kingsway
Cuphead
Bridge Constructor Portal
Portal 2
Final Fantasy VII
Continue SideQuest
Edit
Can't Drive This
Rocket League
Nidhogg
A Fistful of Gun
Duck Game
20XX
Mother Russia Bleeds
Planet Coaster
Pit People
Death Road To Canada
Orcs Must Die! Unchained
Star Wars Battlefront II (Beta)