Epic Boobs was a podcast style show predating the ContinueCast hosted by the Continue? boys - Paul, Nick, Dom and their friend and Gamervision colleague Luke Brown.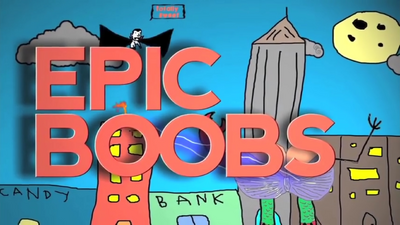 Show Description
Edit
Epic Boobs was Gamervision.com 's twice-weekly video podcast starring Dom Moschitti, Paul Ritchey, Nick Murphy, and Luke Brown. It's a video show where a bunch of guys talk about a bunch of stuff. Bet you never saw that before. Well you haven't. Not like this. Also, the show is basically Continue? plus Luke, so it's got to be the best thing on the internet since, well, ever.
Episode List
Edit
Twenty-Five episodes of Epic Boobs were produced for Gamervision.com between 2010 - 2011.
Every Oprah Poops
We Maybe Miss Nick
Kanye West's Hiccups
Top 5 Horror Chicks
Epic Mancrushes
McDonald's Happy Weed
The Wawa Gobbler
Hot Dog Pizza
Sco-Jo
Ass and Immigration
Don't You Know I'm Four Loko, Esse?!
Happy Thanksgiving Dead You're Dead
Sleigh Bells Ring... Are You Grinching?
Slacktavism
Revisionist History
Video Games... Serious Business
Ghost Man
The Blizzard of '96
Most Extreme Christmas
Arkansamida Strain
What a Horrible Night to Have a Curse
Sex and Superheroes
Golden Globes... Srs Bsns
(Pri)Mites on Ice
Comcast NBC Francis Ford Merger
Toy Fair International 2011 (Uploaded on TheQuarterBinDotCom's YouTube Channel)
Thanksgiving Feast! A Very Special Continue? (Epic Boobs) - (Uploaded on Continue?'s YouTube Channel)
Audio Only Episodes
Edit
The Epic Boobs Show: Episode 1 - The Walking Dead's True Grit In MMOs
On their very first audio podcast, the Epic Boobs gang discusses being new to DC Universe Online and World of Warcraft, what they loved about True Grit, and how awesome The Walking Dead comic is. Also, Madonna.
The Epic Boobs Show: Episode 2 - The Green Hornet's X-Files Flashpoint To The PSP2
The Epic Boobs team discusses the finer points of The X-Files, how comic crossover events impact the readership, whether or not the PSP2 can succeed, and just whether or not the Green Hornet can be a box office winner.
True Facts
Edit
The video show's theme was sung by Dom.
The audio podcast's theme is 'Red Max' by the band Sprite Slowdown, it can be downloaded here.
Luke's love of Monster Energy drink, which became a running joke on ContinueCast, was first brought up on this show.
Josh stood in for Paul on the episode 'Ass and Immigration' as Paul was having surgery to have his face removed. His voice can also be heard on the 'Ghost Man' episode.
Josh also edited many of the episodes.
External Links
Edit