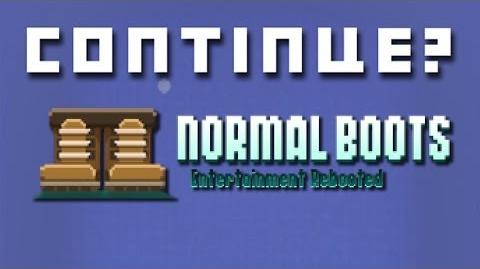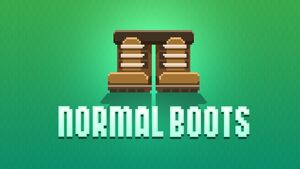 NormalBoots is a collaborative network of internet content creators with video games being the common focus of each member.
The NormalBoots website was founded in 2010 by Jon Jafari (JonTron) and Austin Hargrave (PeanutButterGamer) with Continue? officially joining in 2011.[1]
Current Members
Edit
January: Cold Morning Productions and Indie Games Searchlight become the third and fourth channels to join Normal Boots.[2]
May: Continue? are announced as the newest members of Normal Boots.
August: Underbelly become the latest members of Normal Boots
November: The Completionist joins Normal Boots.
Normal Boots website is redesigned.[3]
June: Did You Know Gaming? joins Normal Boots.[4]
October: The website was closed down, a message was placed on the site that read: "NormalBoots, you will be missed! Unfortunately, we here at NormalBoots feel that the site has run its course, and is no longer necessary. But don't worry, none of us are going anywhere! You can still watch us all on our personal YouTube channels listed below, hoorah!!" Above the text there was an edited image of Leonardo da Vinci's 'The Last Supper, with Jon replacing Jesus and other members of Normal Boots portraying the disciples.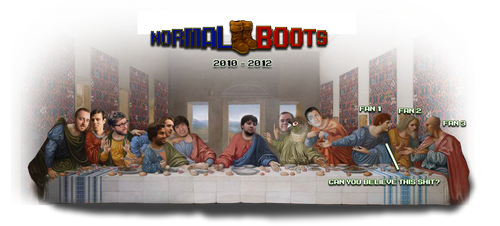 2014 - Normal Boots Rebooted
Edit
Normal Boots was relaunched. Continue? remained part of the site alongside JonTron, PeanutButterGamer, Did You Know Gaming? and The Completionist. Satchbag (Satchell Drakes) and ProJared were also added to the roster. The reason for the relaunch was due to stricter copyright laws on YouTube. The Normal Boots crew wanted somewhere they could post their videos without the fear of them being flagged or removed. The members of Normal Boots would post their videos to the new site before releasing them to YouTube. Continue?, along with the other Normal Boots members, posted announcement videos on their channels explaining the reboot.
Asagao Academy, a dating sim / visual novel starring the members of Normal Boots is released. The game is not officially affiliated with Normal Boots although most of the members provided their own voices (Josh of Continue? being the exception).
With updates having become less frequent the website was redesigned once again. At this time it was announced that JonTron would no longer be a part of Normal Boots.[5]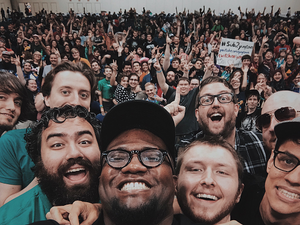 Lee Furst joined Normal Boots as Producer, Channel Manager and Social Media Manager.
NormalBoots YouTube
Edit
As of August 2018 NormalBoots began uploading original content to their YouTube channel. This includes two new series, 'Madness' where members of Normal Boots debate what they think is best in any given category of video games, movies, food or anything else and 'Worlds Within Worlds' - a show created by Paul and Nick with the help of Lee Furst, that looks at how different kinds of media have influenced video games.
In addition Did You Know Movies moved to the Normal Boots channel, having previously been hosted on 'The Film Theorists' channel.
Austin and Jon initially invited Continue? to join Normal Boots while Dom was still on the show, they were unable to accept as the show was, at the time, still part of Gamervision.
External Links
Edit
References
Edit