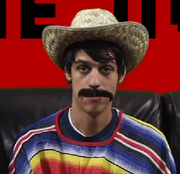 Raul is a member of
Game Over
, and he is the
Bizarro World
counterpart of
Paul Ritchey
.
Early Life
Edit
Raul grew up in a very poor area, and as a result, he never played Super Mario Adventure during his sporehood.
True Facts
Edit
At the beginning of the 100th-ish EpisodeSpecial! Paul is in the middle of telling a story where he was about to punch Raul.
Raul is very proud of his mustache and 'devilish good looks'. When he wakes up after dreaming he was Paul in the Nightmare on Elm Street episode he is horrified that he had neither.