The Legend of Zelda (1987) Trailer is a parody movie trailer directed by Nick Murphy. It stars Jon Tomlinson as Link, Zane Bauer as Zelda and Dominic Moschitti as Principal Ganondorf.
Synopsis
Edit
You've seen God of War. You've watched Inglourious Plummers more times than you'd readily admit. Now find out where it really all began with this recently discovered hidden gem from 1987.
In this charming critically-acclaimed tale of first love, Link (Jon Tomlinson), an eternal optimist and adventurer, seeks to capture the heart of Zelda, an unattainable high school beauty and straight-A student (Zane Bauer). He surprises just about everyone-including himself-when she returns the sentiment. But the high school's over-possessive, megalomaniacal Principal Ganondorf (Dominic Moschitti) doesn't approve and it's going to take more than just the power of love to conquer all.
Perfectly capturing the essence of what it means to be a teenager in the 80s, Nick Murphy, Mike Sadorf, and Dom Moschitti reimagine one of the most celebrated video game franchises of all time with the heart, charm, and wit that only they could. It's the legend of high school. It's the legend of love. It's The Legend of Zelda.
Starring Edit
Jon Tomlinson - Link
Zane Bauer - Zelda
Dominic Moschitti - Principal Ganondorf
Meg Favreau - Navi
Marissa Lesnick - Midna
Josh Henderson - Tingle
Cara Cotellese - The Secretary
Mike Sadorf - I.M. Error
Timmy Firsch
Kevin Brawn
Robert Curry
Frank Snyder
Rachel Marie Smith
Ricky Nguyen
Wayne Russum
Davron Mananov
Chris Romano
Paul Lorenz
Ian Gundry
John Sabbatelli
Thomas Pieczkolon
Jennifer Leachko
Jon Kobryn
Casey Lynch
Ian Gillies
Meghan Pangiochi
Keith Santiago
John Chrostek
Director Edit
Cinematography Edit
Costumes Edit
Graphics Edit
Producers Edit
"Everybody Wants To Rule The World" - Tears For Fears
"Just Like Heaven" - The Cure
"Bizarre Love Triangle" - New Order
"Bizarre Love Triangle - 8 Bit Version" - Chipocrite
Press Coverage
Edit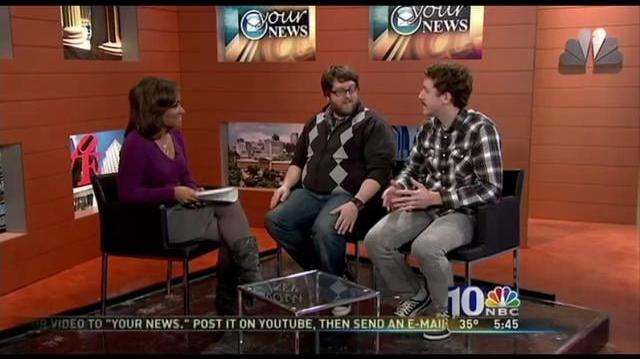 External Links
Edit
References List
Edit